Preparing for Baby's Arrival and the Postpartum Journey.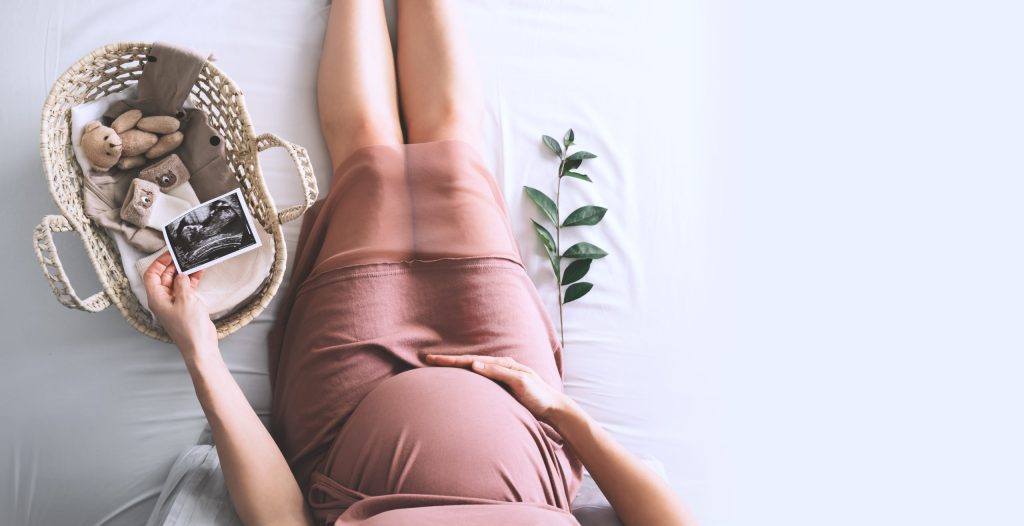 Your third trimester is here, and you are getting ready for the baby! The moment you've been counting down is finally approaching, and will undoubtedly be both incredible, and likely overwhelming at the same time. There are many ways to make the transition from pregnancy through postpartum easier on both you and your baby, so let's make sure you're on that path and set up for success.
With the proper preparation, the transition from your third to the fourth trimester can be easier managed and you can focus on bonding with your baby and nourishing your body as it recovers. This article aims to help you prepare for your newborn baby's arrival and provide tips to help you prepare for the exciting journey ahead of you!
Preparing For Birth.
There are lots of things you'll do to plan for the arrival of your baby. Things like picking a team and location to deliver your baby. It could be in a traditional hospital setting, a birthing center, or even at home! And whether you'll use a doctor, midwife, or doula to support your baby's entry into this world. The options are plentiful, and you should take some time to pick the right support team and setting for you and your family.
It's helpful to call and talk through your insurance coverage ahead of time to ensure that you're getting everything covered that you can and determine if there are any barriers early on that you need to address. This is also a good time to talk to them about coverage for things like maternity compression garments, breastpumps, breastfeeding, pumping supplies, and adding baby once they arrive.
If you're located in the Pacific Northwest or have Tricare, fill out our quick 90-second insurance form and we can help you with getting everything you can out of your insurance!
What Do I Need to Bring My Baby Home?
In addition to the normal things like an infant car seat, bassinet/crib, diapers, wipes, clothing, and other miscellaneous baby needs, you can get ahead of the game by getting the less thought of items purchased or ordered through insurance to lessen your headache once baby arrives. The third trimester is the best preparation time if you plan to breastfeed your baby. Below are ways to get ready:
Getting a Breastpump
A breastpump will come in handy when you finally bring your baby home, even if you plan to exclusively breastfeed. You can pump milk and have a partner or caregiver feed the baby when you are not around. It can also help you to keep milk production or build a stash for any dips in milk or future breastmilk needs. Many parents plan to exclusively breastfeed and end up needing or wanting a breastpump for their journey. To learn more about breastpumps, reach out or visit this page.
The Affordable Care Act has made it possible for any parent to get a free breast pump through insurance. However, it does not specify the model. Thus, you should call your insurance company to determine what they cover and where to get your free breastpump. Remember, if you're in the PNW or have Tricare nationwide, reach out and we'll help with that! Most insurance companies allow you to get your pump ordered at 29 weeks or beyond, with a prescription from your provider.
Finding a Lactation Support Team or IBCLC (International Board-Certified Lactation Consultant)
Breastfeeding is hardly ever a straightforward process for anyone, especially for first-time parents, and even for repeat parents. That's where finding support can really help. Asking around for a great IBCLC to help you on your breastfeeding journey is one of the best things you can do for yourself and baby! Finding someone you can trust before you might encounter a hiccup (like most people do) can be very helpful.
Our amazing team of IBCLCs are here to support you virtually on your breastfeeding and breastpumping journey, or in-person in West Seattle, Poulsbo, or Tukwila. If you need support or want to connect, reach out!
Postpartum Care
The often-disregarded trimester 4—postpartum. This is one of the most challenging trimesters where you'll want to get your village assembled, so you can recover from pregnancy, and birth, and focus on nourishing yourself and your baby. Below are tips for postpartum preparation.
Stock Up Postpartum Essentials
When they say take everything you can home from the hospital, listen! Stocking up on things like pads can save money and come in handy. You'll experience bleeding during postpartum and having some heavy sanitary pads on hand can be helpful. Things like Witch Hazel Pads, and the notorious perineal squirt bottle to avoid wiping after a vaginal delivery can be helpful too for comfort.
Things that can also be helpful are soothing cooling pads for post-vaginal delivery, and compression garments for natural and cesarean births to help support your body as it finds its new "norm". Nursing bras, nursing tanks or tops, nipple cream and pads, and clothing that's nursing friendly and non-constricting is also very helpful! Remember, comfort and ease should be your focus in everything you do during this chapter. Allow your body to rest, recuperate, and be as comfortable as possible as it heals.
Caesarean Section Care
If you plan to have a cesarean section, you might spend a little longer in the hospital to recover. Thus, it would be best if you prepared in several ways. You can grab things to make your healing process more comfortable like pillows, compression garments, and a bassinet so the baby can sit closer, and you don't need to get up and move as much. Remember, your insurance will likely cover postpartum compression garments to aid in your c-section recovery, so be sure to check into that during the third trimester.
Find Your Support Village
Adjusting to the routine that a newborn baby brings is always a journey! You will need all the help you can get to care for your baby and recover. If you haven't already researched a doula, we encourage you to do so. Having a doula can be incredibly helpful not only through pregnancy and birth but during your postpartum journey. They can do things like taking baby so you can nap, help with normal household chores, or even cook for you.
And always, enlist the support of your family or friends! People love to step in and help, especially during these times. Remember, it's a gift to them if you request support. Assembling your support village before the baby arrives is so helpful and can really make your postpartum journey so much easier, and allow you to soak up the incredible newness of your newborn
Nurturing Expressions is here to support your breastfeeding/chestfeeding, breastpumping, and postpartum journey both virtually and throughout the Puget Sound area in-person through our boutiques. We offer support groups, classes, and lactation support, and are in-network with most insurances in Oregon, Washington, Idaho, and nationally for Tricare. Do not walk the journey alone. We're here to nurture you.