How to get an Insurance Covered Breast Pump
Getting your breast pump covered by insurance is easy when you let Nurturing Expressions do the work for you. Here's how it works:
We verify your insurance benefits, so you know exactly what breast pumps are covered by your insurance. We show you which are free and which may require an out-of-pocket contribution.
We work with your doctor to get a prescription after you order your breast pump. Once we have your prescription, we ship your pump to you!
We file your breast pump claim with your insurance company. This means that you don't have to worry about all the paperwork.
It really is that easy and hassle-free - just ask the moms who have used Nuturing Expressions for their insurance breast pumps.
Why You Can Get a Free Breast Pump through Insurance
Good news! The Affordable Care Act (ACA), or Obamacare, requires most health insurance plans to cover breastfeeding support and supplies. As a result, most women can get a breast pump covered by insurance.
At Nurturing Expressions, we offer double electric breast pumps for personal use, which are covered by the majority of insurance plans. Of course, coverage varies from plan to plan. That's why we will verify your specific breast pump insurance benefits when you apply with us.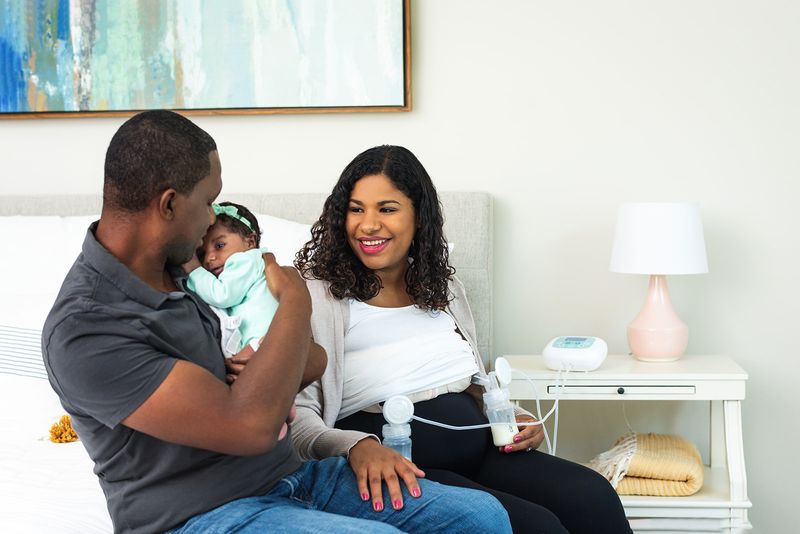 Types of Breast Pumps Covered by Insurance
Thanks to the ACA, most moms can get a free breast pump through insurance. In some cases, health plans will require pump rental (vs. owning) or will offer a manual breast pump (vs. one with a motor), but the majority of plans cover a double electric breast pump.
Nurturing Expressions carries double electric breast pumps from the best breast pump brands. We offer:
Medela
Ardo
BabyBuddha
Cimilre
Elvie
Motif
Spectra
Unimom
Zomee
Your specific health insurance plan will determine which models may be fully covered for you and those that have an upgrade charge.
We Are a Preferred In-Network Provider
Did you know most insurance policies are required to cover breast pumps, pumping supplies, and even maternity compression clothing?
Every policy is different, however, so the pumps, supplies, and counseling covered will vary by insurance carrier, plan, and even state.
Navigating your insurance benefits can be a headache at the best of times. Trying to sift through your plan's coverage while preparing for or bringing home baby can feel flat-out overwhelming. That's where we come in: we are a preferred in-network provider for most major insurance providers. We help you navigate the benefits of your specific plan and policy, and we even bill insurance.
We'll help you find the pump options your plan covers, whether a purchased breast pump or rented hospital grade breast pump. And if you need a pump not 100% covered by your plan, we can help you manage upgrading.
We Are a Preferred In-Network Provider for:
Aetna
Amerigroup
Anthem
Asuris
Blue Cross Blue Shield
Bridgespan
Coordinated Care
Community Health Plan of Washington
First Choice
HMA
Kaiser Permanente of WA
Lifewise
Meritain Health
Premera
Regence (Washington, Oregon, Idaho, Utah, Alaska)
Regence Group Administrators (RGA)
Medicaid Apple Health
Molina
Tricare West
Tricare East
US Family Health Plan
United Health Care Healthy Options
Zenith
And many others. Reach out to see if you are covered